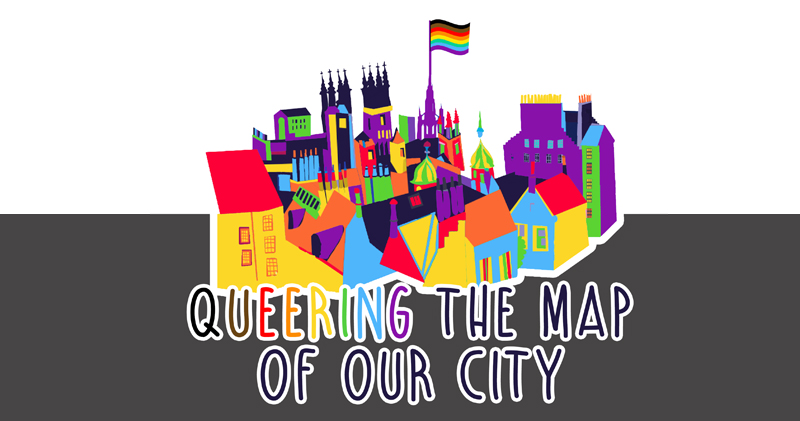 We all have them, the parks, pubs, clubs, cinemas and cafes where we used to meet old and new friends. Sure, venues, and memories change and fade, but imagine if your life story - your important, pivotal places - appeared on no map, and in no history books.
Queering the Map, a joint project with Scotland's Urban Past, the Scottish Civic Trust, and OurStory Scotland, aims to crowdsource information to reclaim, mark, memorialise and remember those places and venues that have been important to Scotland's LGBT history and community.
It's only appropriate that amongst all the public and civic buildings flying the rainbow 'Pride' flag this month, one of them should be Edinburgh Castle. After all, it was once home to one of Scotland's earliest LGBT pioneers. King James VI of Scotland and I of England had lifelong affairs with men – although you probably wouldn't know that from your school history books.
The good news is, with Scotland about to become the first country in the world to embed LGBTI-inclusive education into the national curriculum, future generations of Scottish school students will know more about LGBTI history, and the important role the community has had in changing and advancing public attitudes and political policy.
Today, in Scotland, members of the LGBT community lead political parties, run major businesses and occupy high-profile positions in public life. This inclusive, sharing of all our talents can only benefit the whole country.
As part of LGBT History Month month, across Scotland, the LGBT community has been gathering to record the places that have played an important role in their lives. From welcoming shops and bars, to nightclubs, cafes, and galleries, the once hidden nexus of LGBT meeting places and gathering points is finally being marked on the map of Scotland.
While venues in Glasgow and Edinburgh, Scotland's two biggest cities, have always featured on the LGBT radar, almost every town and city in Scotland boasts its own scene.
Some LGBT-friendly pubs and clubs have served generations of the community, others grew, flowered, and died, living on only in the memories of those who met and gathered there. Today, thanks to Queering the Map, those sites will no longer be forgotten, but will be marked for future generations.
It's not only historic LGBT sites which will be mapped, the project will also create a modern map for LGBT travellers and visitors, so that they can find friendly people, places and faces in an unfamiliar city.
With its inclusive and open outlook, LGBT visitors are always welcome in Scotland.
Edinburgh has been named as one of the most LGBT-friendly cities in the world, while the Rainbow Europe Index voted Scotland as the best country in Europe for LGBT equality and human rights in both 2015 and 2016, with us finishing a close second, behind Malta, in 2017.
This project isn't about charting a different Scotland, it's about discovering and acknowledging a history that has always been part of our country's story. Together, and with a map to guide us, all Scotland's communities can all look forward to a more welcoming and inclusive future.