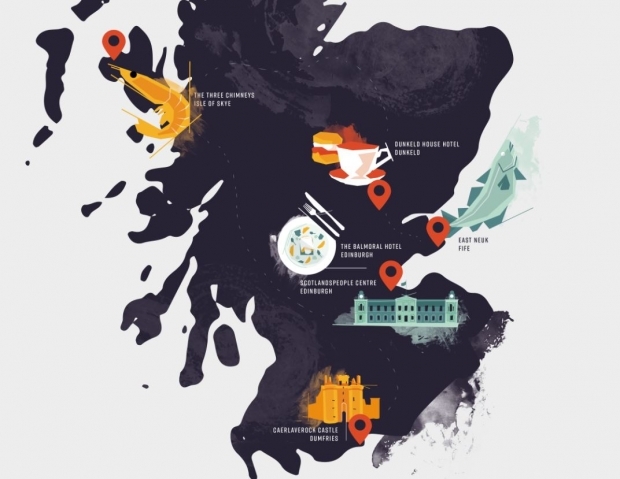 Last month our Scot Story programme began as we welcomed our first guest to Scotland to trace her ancestry - food & travel photographer extraordinaire, Jo Stougaard.
Jo, who is based in Los Angeles, is an official food scout for a Pulitzer-prize winning restaurant critic at the L.A. Times. Her Instagram account boasts gorgeous images and was named one of L.A.'s best food Instagram accounts. Jo tweets, Instagrams, blogs, snaps and pins as @MyLastBite.
Jo has a strong connection to her roots, being half Scottish and half Okinawan she playfully describes herself as a potent mix of Scotch and Sake. Jo's father moved to Scotland in the 70's and lives in Bridge of Weir, near Glasgow. The paternal side of her family (Clan Maxwell) can be traced as far back as the 12th Century and Jo got to explore her ancestral region of Caerlaverock. As well as this, Jo spent time with some of Scotland's top chefs and experienced the sights, sounds, and most importantly for Jo - the tastes of Scotland. Below you can find a diary of Jo's time in Scotland, along with some of Jo's photos. Enjoy…
Days 1 & 2: Family Time
Jo's Scot Story adventure began with what is really at the heart of this campaign: family. After the long flight from L.A. Jo arrived in Scotland and got to spend some time catching up with her father and her extended family in Bridge of Weir, just outside Glasgow. Jo says that her father's cooking is the greatest inspiration to her and that he has a magic touch when laying out a spread. Her favourite thing about visiting him in Scotland is his 'welcome dinner': "it's always a delicious Clan Maxwell family feast".
#TravelTuesday #MyScotStory A #FullScottish Breakfast is a must when you visit Scotland. #MyLastBiteTravels https://t.co/xmjVfyHsVx pic.twitter.com/CTwf9GiWfT

— Jo Stougaard (@MyLastBite) April 18, 2017
Days 3 & 4: Isle of Skye
After spending a couple of days catching up with family, Jo travelled to the enchanting Isle of Skye. Skye is the largest island in the Inner Hebrides with a population of just over 9000, over half of whom still speak the ancient Scottish language of Gaelic. Skye is also home to the Michelin-starred restaurant The Three Chimneys, and in between touring the local sites, Jo got to spend time with the restaurant's owner Shirley Spear, as well as head chef Scott Davies. Over three decades, The Three Chimneys has gained worldwide acclaim and many accolades, growing to be recognised around the world for serving fresh, local, sustainable food. The Three Chimneys was listed as one of the Top 50 Restaurants in the World in 2002 and 2003 and recently was placed in Scotland's Top 8 in the Sunday Times 100 Best UK Restaurants 2017.
#MyScotStory Lunch @3_Chimneys: Peat Smoked Haddock Ravioli with... https://t.co/cPP80q5l2r @ScottDaviesChef @ShirleySkye3 @AboutScotland pic.twitter.com/P1uowRxycI

— Jo Stougaard (@MyLastBite) April 22, 2017
Days 5 & 6: Edinburgh and Dumfries & Galloway
After the long train journey from Skye down to Edinburgh, Jo spent the rest of day five soaking up the atmosphere in the capital at the G&V Royal Mile Hotel. The hotel is situated in the heart of Edinburgh's Old Town and offers spectacular views over the city. During her stay, Jo dined at the hotel's award winning restaurant, Cucina.
Had such a fun #InstagramTakeover today. Check it out at https://t.co/mUO3TvZ7Mq (yes there's FOOD!). #MyScotStory #MyLastBiteTravels pic.twitter.com/iVvWbkX8WI

— Jo Stougaard (@MyLastBite) April 23, 2017
Day six saw Jo travel from Edinburgh to Lockerbie to trace her Maxwell Clan ancestors in Dumfries & Galloway. With the help of her guides from Solway Tours, Jo visited the impressive Caerlaverock Castle, her ancestors' official residence. She also stopped by the stunning Threave Castle and various other points of interest along the way, before grabbing lunch at The Selkirk Arms (famed for its links to poet Robert Burns) in the charming town of Kirkcudbright.
#MyScotStory Loved @SolwayTours of my family (#ClanMaxwell) sites in #Dumfries. Highly recommend... https://t.co/PJ8Mxrp3P9 #LoveDandG pic.twitter.com/X3rWBJxvJO

— Jo Stougaard (@MyLastBite) April 24, 2017
Days 7 & 8: Edinburgh and Perthshire & Kingdom of Fife
Jo spent the morning of day eight sampling the best of Edinburgh's attractions. With everything from the magnificent towering structure of Edinburgh Castle, to the hidden depths of the city's sealed 17th century underground streets, there is plenty to choose from. After some sightseeing Jo headed to the acclaimed Tower Restaurant, which adorns the top of the National Museum of Scotland, before heading on her travels again, this time to Perthshire.
In Perthshire Jo stayed at the Dunkeld House Hotel, situated on the banks of the River Tay, which is famed for its salmon fishing. She arrived just in time for Afternoon Tea - prepared by the hotel's newly appointed pastry chef.
From there she met fellow food writer Christopher Trotter to discover the foodie gems of Perthshire and Fife. They visited some of the small villages making a big impact on Scotland's food industry, such as the fishing village of East Neuk, before enjoying a locally sourced lunch, showcasing some of the best local foods.
#MyScotStory Loved watching @CTScotfood harvest & make #WildGarlicPesto in his kitchen yesterday... https://t.co/Gs5eEFPsKy @AboutScotland pic.twitter.com/L2C38cvleE

— Jo Stougaard (@MyLastBite) April 25, 2017
Days 9 & 10: Edinburgh & homeward bound
Jo returned to Edinburgh and checked into The Balmoral Hotel. More than a hotel, the building is a city landmark, with its majestic clock tower playing an important role in the city's skyline. The Balmoral is also home to Michelin-starred restaurant Number One, and Jo sampled their culinary delights which focus on offering outstanding Scottish cuisine using the finest, seasonal ingredients.
#MyScotStory This Tomatin Smoked #ScottishSalmon @NumberOneEdin has bewitched me. Like tasting salmon... https://t.co/p9vgkENJmw pic.twitter.com/7UX4UdzGCb

— Jo Stougaard (@MyLastBite) April 26, 2017
The following day Jo made the short journey across the street to ScotlandsPeople Centre. There she discovered old records, dating back hundreds of years, concerning the Maxwell Clan (as well as the earliest reference to whisky, dating back to the 15th century!).
It goes without saying that a trip to Scotland is not complete without a whisky tasting, and we made sure Jo got to sample one or two. After a couple of drams Jo had dinner with Social Bite CEO Josh Littlejohn at nearby restaurant, Home. Home, in partnership with Social Bite, offers a unique dining experience serving Scottish/French cuisine. The restaurant exists for a social mission, and customers can pay meals forward for the homeless. They also offer training and employment opportunities for Edinburgh's most disadvantaged people.
Jo headed back to L.A. the following day, full of good cheer, and more importantly, good food! Her time in Scotland allowed her not only to gain understanding and appreciation of Scotland's food & drink industry, but also of her own heritage, and her family's place in Scottish history.