Scottish fabrics are revered by designers, buyers and fashion houses the world over. Welcome to Scotland, to a country with its own sense of style and creativity.
A wide variety of Scottish fabrics, designers and accessories are on show in our welcome imagery at Scottish Airports. It's a mini introduction to some of the best of Scottish fashion as well as international brands. The guide below will take you through each of the outfits and the designers behind this colourful ceilidh: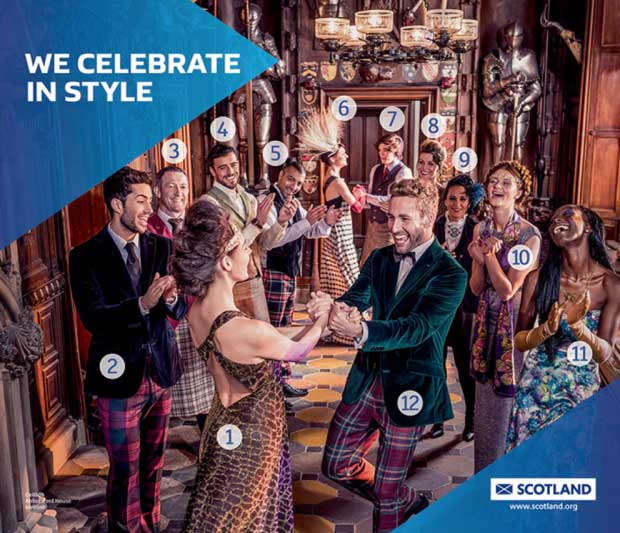 The centrepiece gold & brown dress (1), the gold dress (8) and floral dress (10) on show are by Fiona Somerville, an Edinburgh-based fashion and knitwear designer. Fiona's designs combine her Scottish heritage with cutting edge contemporary fashion. Piles of embellishment with flattering cutting, draping and luxury knitwear is her design ethos.
The headbands on show (1, 8 and 10) are by Rene Walrus. This jewellery studio specialises in creating couture accessories. Rene Walrus was founded by Janet McCrorie, a fine art graduate who used her passion for couture to create wearable art for the brave.
The tartan trousers in the shot (2, 5 & 12) are by Hackett. Woven in the Scottish borders, exclusively using the finest wool, Hackett supplies trousers in a number of different tartans to top end department stores. The trousers show the versatility of tartan when applied to modern cuts and shapes.
The purple (2) and green jackets (12) and waistcoat (5) from Walker Slater complete these tartan outfits. Walker Slater's ethos is clothing that are stylish, yet practical and robust, allowing the wearer to be carelessly elegant. Walker Slater have stores in Edinburgh and London but ship around the world.
Scottish designer and contemporary kilt maker 21st Century Kilts is also part of the fabulous display (3, 4 and 7). Run by the enigmatic Howie Nicholsby, 21st Century Kilts are known worldwide for their A-list clientele and the use of original designs and textiles to offer a contemporary take on the classic kilt.
The monochrome dress (6) by Iona Crawford captures her delicate, expressive and painterly approach. Born and raised in Stirlingshire countryside in central Scotland, Iona Crawford graduated from Edinburgh College of Art in 2007. The leather kilt (9), also by Iona, demonstrates her trademark tailoring. Iona has shown internationally in Paris, Tokyo, London, Beijing and New York since the launch of her label.
The headpiece (6) accompanying the monochrome dress is by Joyce Paton. Joyce is the creator of couture gowns, corsets and hats and has turned her passion for dressmaking and millinery into a highly successful brand. She works with luxury brands including Harris Tweed and has been seen on catwalks in New York. A headpiece by Joyce Paton is featured in the next outfit as well.
The blouse and jacket combination (9) is by Judy Clark. Award winning designer Judy R Clark is famed for her exquisite hand-tailored womenswear designs comprising of Harris Tweeds, Scottish lace and antique fabric with an eccentric edge. She has created installations, exhibitions and bespoke ranges for several companies at home and abroad. The necklace for this outfit is by Glasgow-based designer Euan McWhirter. Celebrated for his heady mix of old world glamour and rock 'n' roll edginess, Euan's award-winning designs have recently adorned Kylie Minogue.
The floral dress featured at the front of the image is by Obscure Couture (11), a Glasgow-based fashion label specialising in unique 'street/stagewear' - their designs are anti-fast-fashion and anti-trends with a strong sense of individuality. The necklace in this piece is by Katie Lees. Katie is a designer of finely-crafted jewellery based on the heavy industrial aesthetic of Glasgow's shipbuilding history.
The designer outfits are enhanced by the stunning setting of Abbotsford House in the Scottish borders. The House was the home of Sir Walter Scott and is now a venue and country estate with a visitors centre and popular restaurant.
If you are interested in Scottish fabrics, textiles or design there are many university courses available to expand design skills or prepare you for a life in the fashion industry. Scotland's fashion has a home in international stores all around the world.