Meet:
Allan MacFadyen
By night (shift) he's a paramedic with the Scottish Ambulance Service. But during the day, Allan is preparing for a more musical call-out – at Scotland's leading Gaelic festival.
No matter where I live or wherever I travel in the world I will always be able to say "Tha mi às an Òban" – I am from Oban.
Allan MacFadyen is the first to admit it wasn't his idea to learn Gaelic - his wife, Julie, has been trying to get him to learn Gaelic for many years. Both Allan and his wife grew up in Oban, a town on Scotland's west coast, but found themselves (linguistically at least) taking different paths at high school. Instead of taking Gaelic as a subject, Allan chose German whilst Julie continued speaking and singing in the language into adulthood.
That choice at high school was something Allan had never thought much about until a few years ago, when he finally succumbed to peer pressure from friends and his wife to join the Edinburgh-based Lothian Gaelic Choir. That's how, during a break from shifts with the Scottish Ambulance Service, he's speaking to us just a few weeks before the choir will take to the stage at one of Gaelic culture's leading events.
Gaelic is one of Scotland's official languages alongside English and Scots and is spoken by around 60,000 people across the country. Its roots can be traced back to the medieval Kingdom of Alba, and despite suppression of the language during the eighteenth-century Highland Clearances, Gaelic remains at the very heart of Scottish culture.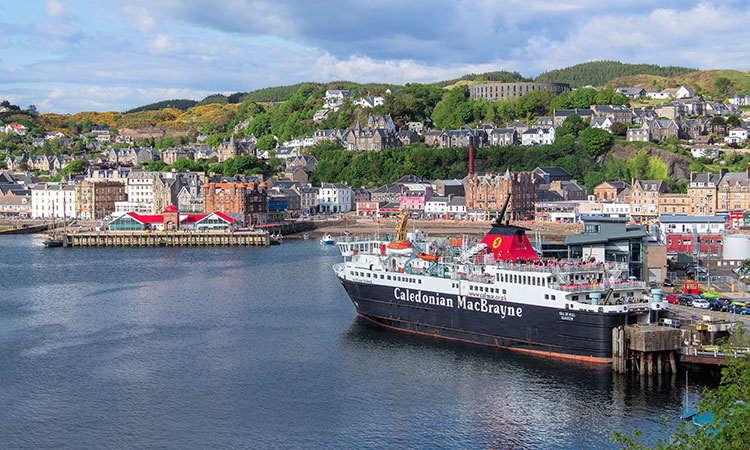 Allan's hometown, Oban
Whether you live here or are simply visiting, you'll notice Gaelic influence across music, storytelling, radio, road signs, theatre and even in the popular TV series Outlander. This October, though, the celebration of Gaelic culture and language comes to a crescendo at the Royal National Mòd.
For me, the Royal National Mòd is a chance to connect to our shared culture and heritage.
The Mòd is Scotland's annual leading Gaelic festival, which not only showcases homegrown talent across music, dance, literature and the arts but welcomes international competitors from as far afield as Australia. As for Allan and Julie, they'll be hoping to repeat last year's success, where the Lothian Gaelic Choir they perform with took home two of the main choral competition trophies.
It might sound a bit cliched, but for Allan, winning really is just a bonus – it's the taking part that counts to him. That's because not only has joining his local Gaelic choir developed his vocal abilities, but it's also gifted him with a huge extended family. The Mòd brings all these 'families' together in one location – which in 2019 will be Glasgow, a UNESCO City of Music – to share the week with one another and the Mòd's visitors.
Some of the best singing takes place beyond the halls and churches where we compete… And you're never too far from a ceilidh.
Between singing with an award-winning choir and shift working with the Scottish Ambulance Service, how exactly does Allan find time to learn Gaelic? Thankfully, as well as having two tutors on hand during choir practice to help beginners improve their spoken Gaelic, Allan makes the most of a handful of resources he's found to improve his knowledge at home.
There's learngaelic.net, the BBC Alba TV channel and BBC Radio nan Gàidheal – which is a good way to hear the language spoken more regularly and engage with news from the Gaelic community.
The community aspect that underpins Allan's Gaelic language experience also plays a big role in his job. Allan finds that the ability to be outward-looking and embrace people's stories in times of personal uncertainty is one of the best aspects of serving in the Scottish Ambulance Service. Since 2008, he's been based at Edinburgh city's main ambulance station, where he and his teammates need to be prepared for any situation that arises, from a serious accident on the motorway to a routine patient transfer between hospitals.
Allan notes that, as an employee of the National Health Service, he witnesses first-hand the Scottish propensity for compassion. 'From colleagues in the Ambulance Service, to home carers, nurses, doctors and support staff', Allan says he's always believed Scotland to be a country where people have a genuine interest in each other.
I've always considered Scotland to be a country where the people will go out of their way to help those around them. Whether you're enjoying the bustle of Edinburgh's Old Town or strolling on a deserted beach, you'll find welcoming people, majestic landscapes and some of the best scenery anywhere in the world.
And it's not just people that make Scotland – it's also the scenery, which provides a perfect contrast to longer shifts during the working week. It's easy to get out and about in Scotland, Allan says, as within half an hour you can be at a beautiful beach or scaling a hillside. As both Allan and wife Julie hail from the west coast they return there frequently, finding that both the sense of the community and the proximity to the isles will ensure it always feels like home.
From discovering the stories of the people he comes into contact with as a paramedic, to learning a new language as an adult, Allan believes that learning of any kind is important – but there's something deeper about connecting with the Gaelic culture that he values.
It's personally very important to me. Being able to understand and speak the language that my grandparents grew up with makes me feel more connected to my ancestry.