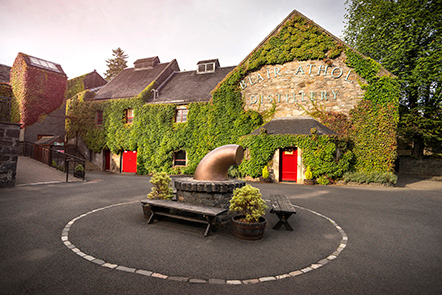 To celebrate International Scotch Day (Thursday 8 February), some of Scotland's most famous whisky distillery centres will open their doors for free on the 8th, 10th and 11th of February. **
Scotland's whisky distilleries received a record number of visitors in 2017 – and with good reason. Visitors from around the world come to explore behind the scenes of some of the world's favourite whiskies, meet the makers, learn about single malts and blended Scotch, and of course taste the products.
Blair Athol Distillery in Pitlochry, the iconic home of Bells' Scotch whisky, was drink producer Diageo's busiest distillery visitor centre drawing in 86,019 people between January and December last year.
This is in part due to the launch of their new innovative mash tun whisky tasting bar. In one of the most innovative examples of "up-cycling" seen in the Scotch whisky industry, coppersmiths from Diageo Abercrombie in Alloa, who are usually employed making copper potstills for whisky production, took a redundant mash tun – a massive cylindrical copper and cast-iron vessel used in whisky distilling – and transformed it into the bespoke whisky tasting bar which will now be the centre-piece of Blair Athol's visitor centre.
The concept for the bar was created by Great Brink, a cutting-edge Edinburgh-based design and production consultancy, who worked with the coppersmiths to re-imagine the mash tun into a magnificent, experiential tasting bar.
Whisky tourism is a vital part of local tourism for many areas in Scotland, attracting visitors, creating jobs and sustaining communities.
Learn more about Scotland's whisky industry here
*Please enjoy Scotland's national drink responsibly
**For a list of participating distilleries and how to book your free tour, please visit the Diageo website