Dave Mackay is the Chief Pilot of Virgin Galactic's SpaceShipTwo and recently became the first Scottish-born person to go into space. Who better to chat with on the 50th anniversary of the Apollo 11 moon landing?
Ever since he was a child, Dave Mackay's career was always destined for the stars. Growing up in the Scottish Highlands, Dave became fascinated by the sight of military aircraft flying at low altitude and high speed on training missions over his home.
He was also fixated with how things work, and when he wasn't watching the planes whizz past, Dave was more than likely pulling things apart – bicycles, model trains, radios – and trying to rebuild them. It was these childhood experiences that really shaped Dave's life and, from the moment he took his first flight at the age of nine, he knew there was only one thing he wanted to do.
"I clearly recall the contrast between the take-off from the bumpy grass runway to the beautifully smooth air. Flying was an almost magical experience and I immediately knew I wanted to do more".
Like most youngsters growing up in the 1960s, the first US space missions also opened Dave's eyes to a whole new world. After watching the Apollo missions on TV, Dave decided that he wanted to become an RAF pilot and was already planning his own trip to the stars.
In 1979, he joined the RAF, embarking on a 16-year military career before joining the team at Virgin (initially as a commercial pilot). During his RAF career, Dave flew countless aircraft, becoming Commanding Officer of the RAF's Fast Jet Test Flight in 1992 – the same year he received the prestigious Air Force Cross.
It's fair to say that Dave's childhood dreams of flight and space travel took root in his imagination and wouldn't leave him. His determination to make his wishes a reality blossomed in Scotland, as he says that his home country provided inspiration, encouragement and opportunity.
"I would sometimes ask myself – although some of my dreams were very ambitious – who are the people that fly RAF aircraft, or fly in space? Why should that not be me? […] To give myself the best chance of success – and because the subject fascinated me – I wanted to study aeronautical engineering at the University of Glasgow, and it helped that Glasgow also had a University Air Squadron attached to it".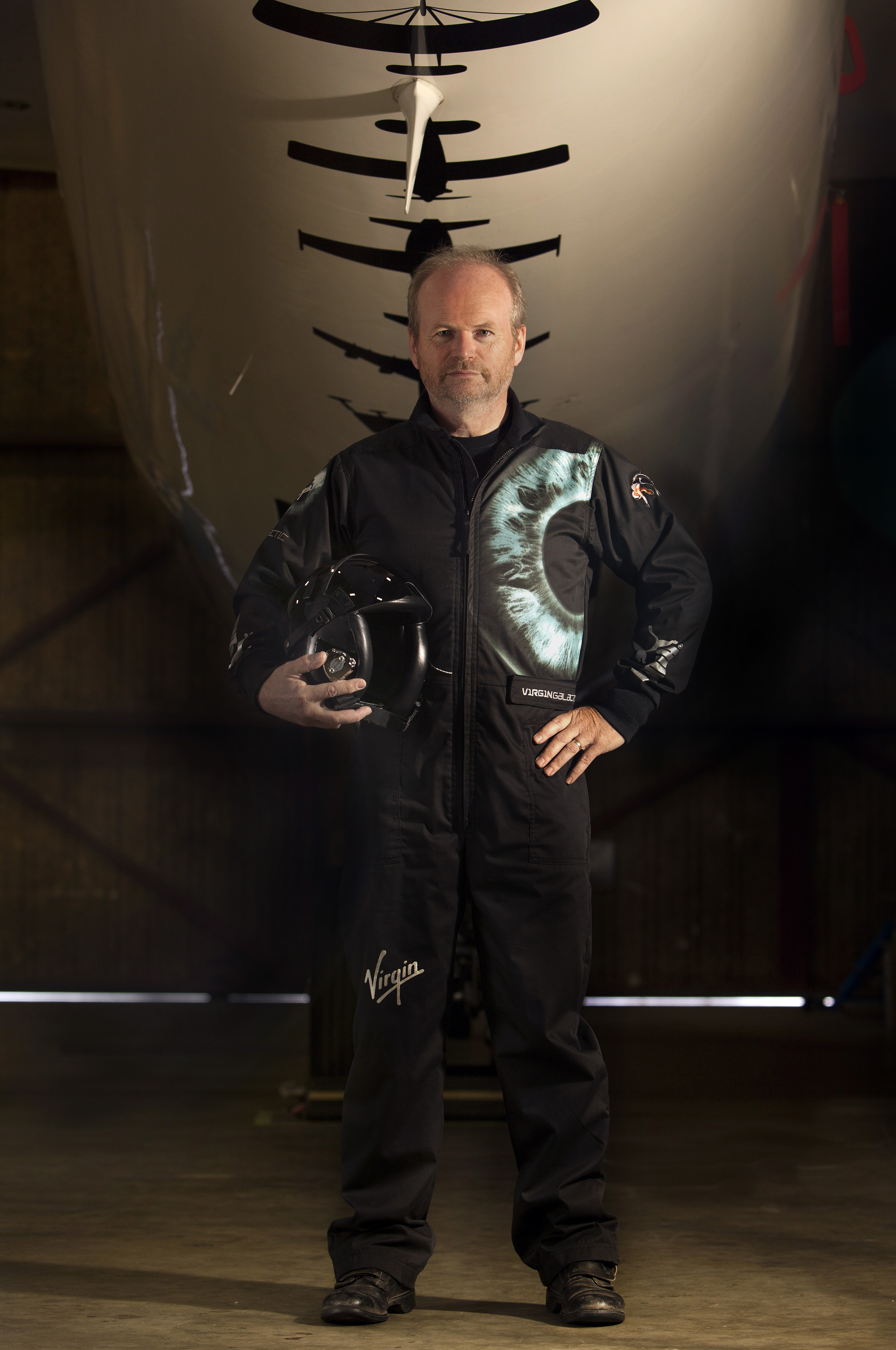 Today, Dave is following in the jet trails of a previous generation of space explorers – three of whom actually have Scottish roots. As well as being Dave's boyhood heroes, NASA legends Neil Armstrong, Buzz Aldrin and John Glenn all also claim Scottish ancestry.
Incredible to think that, as a child reading about their exploits and watching them on television, Dave would one day have the privilege of meeting many of the Apollo astronauts, even sharing a panel with Neil Armstrong at a space conference.
"It shows how Scots people have spread across the world, but also that, no matter where we originate, working together, we can achieve amazing things".
In February of 2019, Dave used all his skills and experience to pilot Virgin Galactic's SpaceShipTwo – the VSS Unity – to an altitude of 55.85 miles (294,9007ft). In doing so, he became the first Scottish-born person to go to space.
So, how does it feel to escape the Earth's orbit and travel to the edge of space? Thankfully, though he was understandably concentrating hard on the spaceship instruments, Dave was able to take a few moments to appreciate the magnitude of his achievement.
"The view was so much more than I expected – I could see so much it was almost disorientating. The curvature of the Earth was so pronounced and for the first time I could get a sense of its scale. Space was a dense matte black and the Earth's surface was extremely brightly lit".
"We saw the full moon looking stunningly bright in the black sky of space over the San Francisco area, sitting just above the thin band of cyan blue atmosphere. It was then that I realised that we had already passed the boundary of space and I made the call, 'Welcome to space, Scotland'".
Touching back down in California's Mojave Desert, his Virgin colleagues had laid on a special treat for him, with Dave welcomed back to Earth by a Scottish piper. Though his immediate post-flight feeling was one of relief at a job well done, this was replaced by a more emotional sense of wonder at what he'd seen and experienced.
Alongside that, Dave also had a profound sense of gratitude to the whole team – made up of many different nationalities – for the incredible work that had gone in to making it possible. That idea, of teamwork and different nationalities and races working towards a common goal, is central not only to Dave's outlook on space travel, but on life itself.
"As proud as I am of being Scottish, I am also keenly aware that I owe a great deal to many friends and colleagues, in particular from England, France and the USA, but also many other countries. If I have achieved anything notable in my life it has been as part of a team working together, regardless of race, colour, religion or nationality".
Looking to the future, and Scotland's emerging role as a leader in the growing space industry, Dave sees Scotland continually moving forward. The success of the small satellite industry in Scotland in particular builds on Scotland's long heritage of science, engineering and manufacturing.
With a small satellite spaceport planned for his native county of Sutherland, it feels like Dave's story is about to come full circle. And, as we approach the 50th anniversary of the first Moon landing, he believes that we are now in the most exciting era in space exploration since the Apollo days.
"Northern Scotland is an excellent location for the very important polar orbital launch trajectories and the move to build a spaceport there is hugely exciting. Humankind has an innate desire to explore, to seek knowledge and better understanding of who we are, where we are, and what else is out there. I foresee us expanding off this small planet and going back to the Moon, going to mine asteroids for natural resources, and going to Mars and eventually well beyond".
Despite his lofty aspirations for the future of space travel, Dave is also quick to point out that no matter how far out of this world he travels, Scotland will always hold a special place in not only his heart, but his wife's too.
"I recall taking my wife to Bettyhill [in the far north of Scotland] and we stopped by the old harbour overlooking Torrisdale Bay and the islands off the coast. It was dull grey and misty but as we stood outside in the rain she said, "This is one of the most beautiful places I've ever seen"".
So, how would Dave describe Scotland to someone who had never visited our country – or our planet – before?
"I would tell them that I've been privileged to see many parts of the world but, despite my bias, Scotland is one of the most beautiful and unspoilt landscapes anywhere. The coastline is so varied – spectacular at times – and despite its small size, there is still a plenty of space, and silence".
With the world looking towards the stars once again, even though Dave will always be known as the first Scot in space, he surely won't be the last.
Find out more about Virgin Galactic at VirginGalactic.com