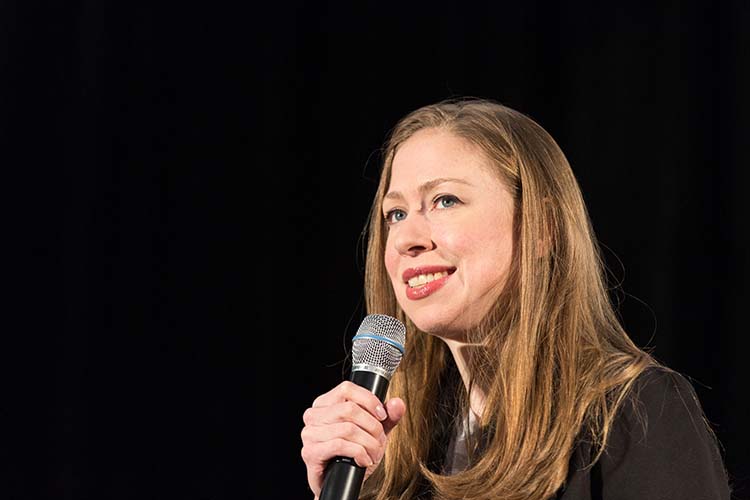 Speaking about women's rights, at the Edinburgh International Book Festival, the daughter of former US President Bill Clinton, and presidential candidate Hillary Clinton, said: "I really appreciate how candid the First Minister has been about the challenges of being a woman. I think that is incredibly healthy and incredibly courageous and incredibly powerful."
A sign of strength
Ms Clinton, who was launching her second children's book at the festival, said the First Minister was among the many women she admires, and offered a good example to other women.
She said: "So often the challenge of being a woman, especially the first woman anything, these are challenges that we have historically shied away from and which could be used as leverage against us, so I think that is something we could learn from, not just in the United States, but everywhere… I think we need more of that, and we should see that as a sign of strength and not remotely a sign of weakness."
Healthy candour
Ms Clinton, who also sits on the board of her parents' Clinton Foundation, said that Ms Sturgeon's leadership was "very different" to the Trump presidency", adding: "It shows what strong leadership looks like, including a healthy candour that is very different to the candour that our president engages in."
She also praised the fact that women are well represented on Holyrood's front benches, saying: "I hope that given that the First Minister and the opposition are both women, if you'll see more young women running for office here in Scotland. There's no longer the pressure to imagine what female leadership would look like because you see it."
The world is watching
Ms Clinton, whose children's books aim to empower young female readers, said equal rights for women remained a hugely important global issue.
She said: "We know that in no place are women fully equal - equally enfranchised, equally empowered, equally supported.
"How we change that requires a shift in norms and expectations and I think some of that starts with the stories we tell our children - not only our girls but also our boys."
Ms Clinton added: "I think that her (Ms Sturgeon's) candour will hopefully make it easier for more women to go into politics here in Scotland, and in other places where women are watching her example."