There are not many Scots who can claim as much international recognition as Robert Burns. Burns Night is known the world over and marks The Bard's birthday on 25th January.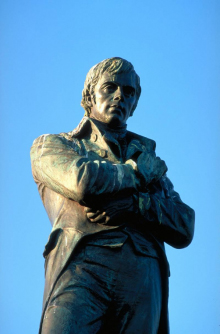 Other than Queen Victoria and Christopher Columbus, Burns has more statues dedicated to him around the world than any other non-religious figure with Canada and Australia each having seven, New Zealand four and the USA boasting 14 - including one in Central Park, New York. Rabbie also appears in Paris with a statue at the Sorbonne.
Burns can count some of the world's most well known figures as fans, including President Abraham Lincoln, who was an avid fan and collector of The Bard's work; Bob Dylan, who cites 'A Red, Red Rose' as the source of his greatest creative inspiration and pop singer Michael Jackson, who is rumoured to have created an unreleased album of Burns' work.
Burns is commemorated in even the most far flung places, with celebrations set to take place from Tanzania to Delhi, St Petersburg to Dhaka. Robert Burns is also extremely popular in China, where Scottish societies from both Beijing and Shanghai host celebrations every year.
There are several similarities between Burns' works and traditional Chinese poetry, with themes about the land and love and enduring love of the country. Many of Burns' works have been translated into Mandarin over the years so they can be enjoyed by all.