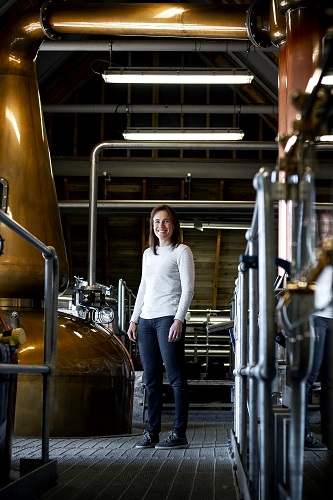 When you think of whisky, many people conjure up images of dimly-lit gentlemen's clubs, smoking jackets and dusty leather chairs. Whisky is as representative of Scotland as kilts and haggis. Yet for many, whisky also represents a bygone age.
Distilleries such as Nc'Nean in Lochaber, the Highlands, are now bringing whisky into Scotland's 21st century narrative. Moving away from whisky's penchant for exclusivity, they are embracing it as a drink for all. Nc'Nean is an abbreviation of Neachneohain, the Queen of Spirits and a protector of nature in Gaelic legend. Their name is a fitting title for this climate-conscious, female-founded whisky distillery.
Nc'Nean's delicious and unexpected whisky, with citrus, apricot, peach and spice flavours, has found its moment in the spotlight in 2021. In the last year it has won the Icons of Whisky "Sustainable Distillery of the Year", and The Drinks Business "Green Award" and achieving a gold certification for The Drinks Business and The Spirits Business "Spring Tasting 2021".
Speaking to the distillery's founder, she told us how Nc'Nean is swapping some of the traditional processes for something a little more unusual:
We take a slower approach to distilling and use a unique combination of two yeasts, not common for the industry. We also encourage people to drink our whisky with soda (we call it The Whisky Six). It's a delicious and refreshing serve, but one which is not always shouted about amongst Scotch lovers and makers!
Sustainable Stills and Wasteless Whisky
Founded in 2013 by Annabel Thomas, Nc'Nean was one of the first female-founded distilleries established in around 200 years. After touring around the famous whisky island of Islay, Annabel observed that almost every distillery was using the same 3 ingredients and with very high energy consumption. Following her trip to Islay, Annabel realised two crucial things. One, if the industry didn't shed its association with older, male consumers, then it was going to die out. Two, there had to be a way to make the distilling process more sustainable.
Learning from the modernisation of the gin industry and the booming craft beer trade in the late 2000's, Annabel and her team found a way to rejuvenate whisky distilling through two targets. Firstly, they committed to a sustainable business model, starting with specially-made German stills. These custom made stills are heated using biomass fuel, a low-carbon alternative to fossil fuels. Nc'Nean decided to go a step further, using local woodchip to minimise the carbon footprint of their fuel. As a result, they use 1/10th of the carbon of a fossil fuelled distillery. The next step in their sustainable business model was to address the significant waste normally produced in the whisky distilling process. In 2019 they achieved zero waste to landfill, through deals with the surrounding local farms to whom they send their pot ale (the liquid which is left after distilling) to use as a natural fertiliser, while sending over their draff (the leftover barley) to provide tasty meals for cows!
Secondly, the Nc'Nean team decided that it was time that the whiskey recipe was reimagined. They started experimenting with different yeast strains, especially ones that are more commonly found in other alcohols (such as rum and champagne). They also began to develop recipes using unique, hand-foraged botanics, including bog myrtle, wild thyme, sorrel and heather, from the surrounding farm land for their botanic spirit. Accepting that each batch will be completely unique and different from the one before, they bought something new to the whisky industry: unpredictability.
Fresh, Female, Fierce!
Aside from their sustainable ethos, one of the factors that has helped Nc'Nean identify with a new demographic of whisky lovers is its position as a female-founded distillery. Annabel told us:
In general, gender within the industry is not really a big deal. There are lots of women who work in the industry and no one thinks it's a big deal if you are a man or a woman. I think the more notable experiences are from people who aren't in the industry. You quite often get asked things like "do you actually like whisky?" which is a bit ridiculous because no one would ever ask a man who started a whisky distillery if they really like whisky. There are more and more women in the industry doing lots to raise awareness that it's not only a man's drink, which is a ridiculous outdated perception.
A New Era
Nc'Nean is just one distillery that is fighting for innovation in the whisky industry. By bringing together sustainability and female-forward business practices, Nc'Nean showcases how Scotland's best-loved and ancient pastime is finding a home in the 21st century.