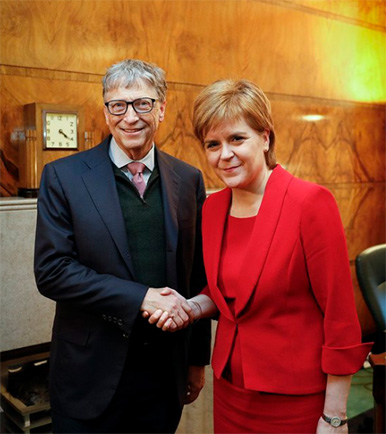 The Microsoft founder and keen philanthropist is providing funding of $40m for research into improved livestock health, working with an Edinburgh-based charity GALVmed (Global Alliance for Livestock Veterinary Medicines).
GALVmed make vaccines, medicines and diagnostics accessible to millions of the world's poorest smallholder farmers. This new research, funded by the Bill and Melinda Gates foundation and based at Edinburgh University, will help with the development of more nutritious and flood-resistant foods for millions of farmers in Africa, who depend on agriculture to support their families, struggle to grow enough crops to put food on the table because of natural disasters.
Scientists are using their expertise to identify specific genes that help plants become more nutritious, grow faster and more resilient to disease and extreme weather.
Mr Gates said: "There is great, world-class understanding here in Scotland of both animal disease and how we can treat it, and how we enhance the genetics so that you can get, say the same type of milk or egg productivity that we have in the UK. Getting anywhere close to that in Africa would be very transforming. Chickens in Africa typically lay a couple of eggs, but if you give them the right breeding stock you could get that up to 10 to 12. Likewise in milk, the difference is even greater. The kind of cash that a household can earn, the amount of extra protein to improve their diets - this is very important to poor families in Africa."
It is estimated the work will help up to 100 million African farmers lift themselves and their families out of poverty.
Are you interested in investing in Scotland's world-leading innovation and technology? Find out more here.