March also marks the anniversary of the death of Sir Alexander MacKenzie, the Scotsman who became one of Canada's most famous explorers. MacKenzie journeyed into the very heart of the Canadian wilderness, becoming the first man to complete a recorded journey across North America and reach the Pacific Coast. So, before we strap on our hiking boots and set out into the wild, we thought we'd take some time to profile him in this month's Canada 150 feature.
Well-travelled at an early age
Alexander MacKenzie was born in 1764 on the Isle of Lewis in Scotland's Outer Hebrides. Both his parents came from prominent mercantile families and they enjoyed a comfortable life, but tragedy marked Alexander's childhood when his mother died before his tenth birthday. The death proved to be a huge turning point for the MacKenzie family and, in 1774, they set sail for New York to start a new life.
In New York, the MacKenzie family settled with Alexander's uncle, John MacKenzie, but they soon faced more upheaval. With the onset of the American War of Independence, Alexander's father and uncle both took up military positions with the King's Royal Regiment of New York. Now the son of a loyalist soldier, Alexander's life became increasingly in threat and, in 1778, he was sent north to Montreal where he lived with two aunts.
Having moved and settled in three different countries by the age of just 14, Alexander's exposure to travel had a huge impact on his life. Bitten by the exploration bug, he settled quickly in Canada and secured an apprenticeship with an influential fur-trading company that would allow him to travel more. The company, Finlay, Gregory & Co would soon go on to merge with the famed North West Company, leaving MacKenzie in a great position to benefit from the merger.
Out in the wild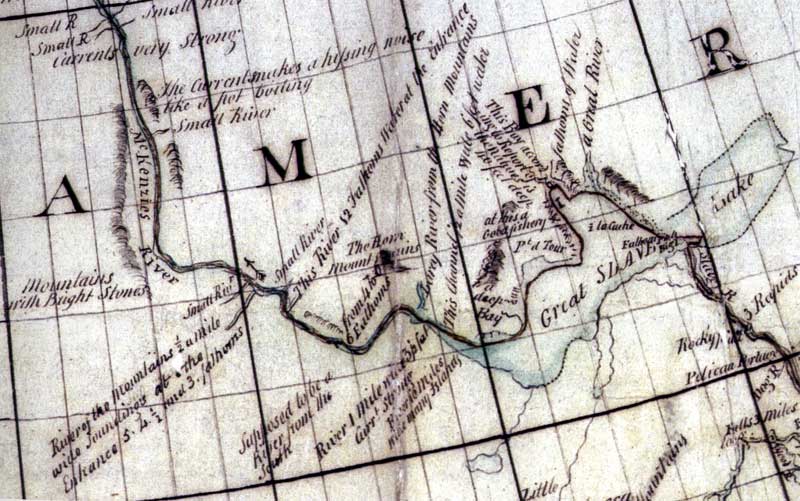 When the North West Company took over, MacKenzie's reputation earned him the position of partner and in 1788 he travelled to Lake Athabasca on their behalf. Once there, he became one of the founders of Fort Chipewyan, one of the oldest European settlements in Alberta. While establishing the Fort, he learned that the local indigenous people believed the nearby lake system flowed to the northwest and opened into the Pacific Ocean.
MacKenzie became entranced by the idea of being the first man to reach the Pacific and, armed with this new knowledge, set sail in a bid to make history. Upon reaching the river's end, Alexander unfortunately found himself not at the Pacific Ocean he had hoped for, but further north, at the Arctic Ocean. Despite this still impressive achievement, he was deeply disappointed at not reaching the Pacific and returned home vowing to try again.
Second time lucky
MacKenzie returned to Britain after his setback, spending time studying a revolutionary new way of accurately establishing a ship's longitude at sea. In 1792, he returned to Canada with this new knowledge, determined to right the wrongs of his previous expedition. Alongside his cousin, a group of fellow explorers, two native guides and dog known only as 'Our Dog' MacKenzie left Fort Chipewyan on 10 October 1792.
After travelling along the Peace River for a few weeks, MacKenzie and his group decided to make camp and hole up for the winter months. They stopped at a fork in the river, building a fort that later became known as Fort Fork. In May the following year, after waiting out the cold weather, the group again set sail along the river, heading west.
MacKenzie and his intrepid explorers soon crossed the Great Divide and came within touching distance of their ultimate goal. On the upper reaches of Fraser River, the group was given invaluable advice by local indigenous tribes, who stated that the path south was dangerous and filled with aggressive tribes. Alexander made the decision to follow their advice, leading the group on a safer path to the coast, over the Coast Mountains and down the Bella Coola River.
Making history
On 20 July 1793 MacKenzie arrived at Bella Coola, an inlet of the Pacific Ocean, finally achieving his goal of reaching the Pacific Coast. In doing so, he became the first man to complete a recorded transcontinental crossing of North America, beating famed explorers Lewis & Clark by a whopping 12 years. MacKenzie had reached the salt waters of the Pacific Ocean but, though he was only within hours of reaching the open ocean, he never actually got to see it.
MacKenzie was determined to continue his journey west to see the open ocean, but was prevented from continuing by aggressive local indigenous tribes. Forced to turn back east, He took time to inscribe a now famous message on a rock near the water's edge:
"Alex MacKenzie from Canada by land 22d July 1793".
These words were later permanently inscribed by surveyors, and still stand to this day in what is now Alexander MacKenzie Provincial Park.
The journals of MacKenzie's adventure were published in 1801 and just one year later he was given a knighthood for his efforts. In 1812 he returned to Scotland, where he married a local heiress named Geddes and the couple had three children together. MacKenzie died in 1820, but as his exact birth date is unknown, it is unknown if he was 55 or 56.
Today, MacKenzie's legacy is impressive with many places and landmarks named in his honour. As well as the MacKenzie River – the longest river in Canada, the municipality of MacKenzie in British Columbia and the MacKenzie Mountains are both named in his honour.