If you think Scottish piping is all about marching and ceremonial dress think again. Welcome to Scotland where traditional and modern music influence each other, creating a diverse and exciting music scene.
Red Hot Chilli Pipers
The Red Hot Chilli Pipers are a great example of this fusion of old and new. They have been stomping across Scotland and the world since 2002, smashing together traditional pipes with modern rock to create a new genre: Bagpipe Rock.
They have played the biggest stages, such as T in the Park, the Commonwealth Games and The Bahrain Grand Prix. They've played in an impressive list of countries including China, Australia, New Zealand, Barbados, Dubai, Bahrain, Saudi Arabia, Qatar and India. That's why they feature in posters across Scotland's airports to welcome visitors to the country.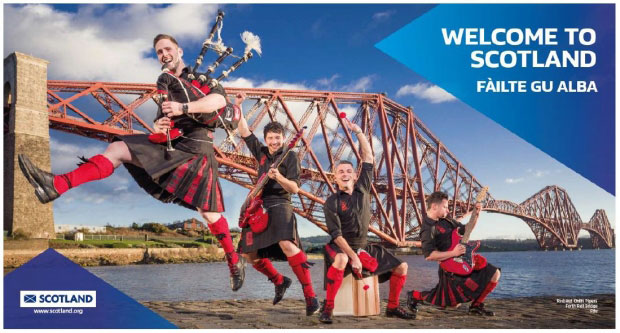 The appeal of the Chilli Pipers is a mix of hard work, Scottishness and talent - director, Willie Armstrong, explains,
Scottish music is very iconic. When the Scots emigrated all across the globe, they took their music and culture with them. From a beach in Barbados to the highest mountains in China, our traditional music has always been well received.Bagpipes only have one octave and it's quite difficult to introduce fresh ideas, it's a constant struggle. It's also important to stay well clear of 'karaoke bagpipes', we don't think that does the instrument justice, it probably takes it back a few steps. We have a team of very skilled and talented musicians that are more than capable of mixing well-known main stream contemporary tunes with traditional Scottish Jigs, Reels and Strathspey's. That's the trick, engage the audience with the recognisable tunes and then segue to the tradition tunes. The tongue in cheek name 'Red Hot Chilli PIPERS' sets the tone from the start. Our accents help a lot, there's certainly something in that. I feel it helps being Scottish and dealing with promoters and festival organisers as we have a reputation for fairness and honestly. Wearing a kilt helps, we are instantly recognised as being Scottish without having to play or say anything. We like to think we make Trad music tremendous. We love being ambassadors for Scotland, it's a huge honour. It will be thrilling to know that visitors to our great country will be greeted by our cheery faces on arrival.
Scotland is awash with new music, great bands to be discovered, fantastic music festivals taking place all year round and great venues from the SSE Hydro Arena (the world's second busiest venue) to country pubs and city music clubs.
The Iconic Forth Bridge
Nearly as iconic as the pipers in the image is the bridge. Spanning the Firth of Forth, the Forth Bridge is an engineering marvel and one of Scotland's most enduring man-made structures.
It's no longer true that the painters maintain the distinctive red colour all year round. Thanks to new paint technology developed for the offshore oil Industry the "never ending job" of painting the Forth Rail Bridge finally came to an end in 2011.
The Forth Rail Bridge and the Forth Road Bridge has been joined by the Queensferry Crossing. This billion-pound project is the longest three-tower, cable-stayed bridge in the world - another great engineering feat to match the original bridge finished over 100 years ago. The Forth Rail Bridge is currently being considered by UNESCO as a future World Heritage Site.