A conversation on one of Scotland's many golf courses in the late 1980s, unlocked years of family history and roots to relatives across the Atlantic for the Landels family.
On a stroll around the golf course with his wife's Great Uncle, Jim Landels from Edinburgh was invited with his family across the pond to meet a host of relatives who were descendants of the Watt family who emigrated from Scotland to Nova Scotia, Canada before settling in Quincy, Massachusetts in the early 20th century.
Alexander and Bella Watt had five children, their eldest Helen Cameron, was born in Dundee, and was the only one to return in the 1930s. Her siblings settled in the US, and it was her brother in law, John Bouldry Snr who introduced Jim, his wife Lorraine and their two daughters, Jennie and Becky to their relatives in the US.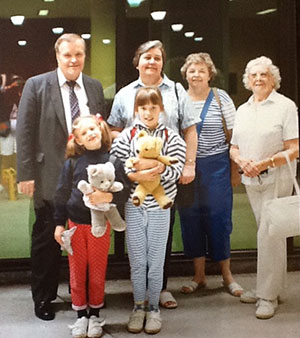 In 1989, the Landels family stopped in Boston on their way to California to meet their American relations including Helen Cameron's nephew and niece, Alec and his sister Roddie and their respective families.