A conversation on one of Scotland's many golf courses in the late 1980s, unlocked years of family history and roots to relatives across the Atlantic for the Landels family.
On a stroll around the golf course with his wife's Great Uncle, Jim Landels from Edinburgh was invited with his family across the pond to meet a host of relatives who were descendants of the Watt family who emigrated from Scotland to Nova Scotia, Canada before settling in Quincy, Massachusetts in the early 20th century.
Alexander and Bella Watt had five children, their eldest Helen Cameron, was born in Dundee, and was the only one to return in the 1930s. Her siblings settled in the US, and it was her brother in law, John Bouldry Snr who introduced Jim, his wife Lorraine and their two daughters, Jennie and Becky to their relatives in the US.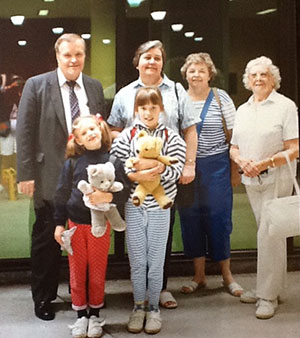 In 1989, the Landels family stopped in Boston on their way to California to meet their American relations including Helen Cameron's nephew and niece, Alec and his sister Roddie and their respective families.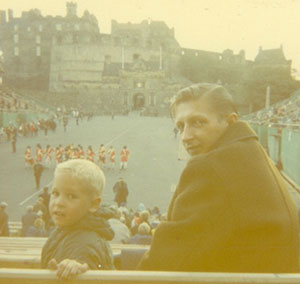 Determined to share her love of Scotland with her community, Roddie and a small group of local Scots in Annapolis, Maryland, set up the first Anne Arundel Highland Games in 1992, with her daughters Kristen and Bonnie competing in Scottish dancing.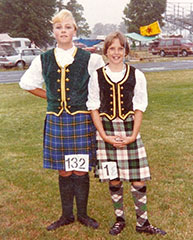 Roddie explains:
"We were in Harrogate , Yorkshire from July 1966 - July 1971. The picture was taken in August 1970. I have not been back since 1971, until now, 2013. I wanted to take the girls to Scotland, as they've never been here before, it's a place that has been part of their culture all their lives!"
When Roddie's cousin, John Bouldry Jnr researched the family tree it was discovered that a great Uncle, was honoured within The Scottish National War Memorial at Edinburgh Castle having been killed in France and Flanders on 30th July 1916.
On visiting Scotland in September 2013, Roddie visited Edinburgh Castle to view an entry in the memorial book for her great uncle, Hugh Watt who was a Royal Scot, Lothian Regiment, 11th Battalion which is commemorated in the Hall of Honours in the castle grounds.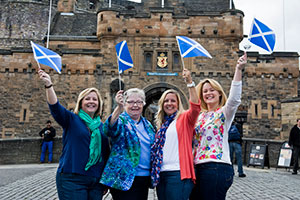 Their tour guide for the day was Jennie Pike (formerly Landels), Helen Cameron's great granddaughter who had visited the Brunstroms back in 1989 in Boston.
Following her initial meeting with the family, Jennie has since researched the family tree further on Scotland's People tracing the Watt family back to another Alexander Watt born in 1819 in Dundee.
Jennie said:
"We have over 200 years of personal family history in the shape of census records, birth and marriage certificates but best of all is the spoken history. Who was who and what traits we have all inherited. Roddie's visit has enabled us to reconnect and we hope to continue the Watt legacy to the next generation."