The wild winds which scour our countryside and seas are driving a new industrial revolution.
By Claire Mack, Chief Executive, Scottish Renewables
The largest private infrastructure project ever built in Scotland is under construction right now – and it's a shining beacon of our confidence in renewable energy. The £2.6 billion Beatrice offshore wind farm will capture the powerful winds off our east coast and is a symbol of why Scotland is the place to do business in green energy. The project is a joint venture between a Scottish utility, a Danish fund management company and a Chinese green energy developer. Building its 84 turbines will employ almost 900 skilled workers, power 450,000 homes and provide £34 million for local community projects.
At Nigg, a former oil and gas port rejuvenated by renewable energy, is acting as a hub for construction of the giant project, creating up to 100 direct and indirect local jobs, along with related supply chain opportunities. And it's all been made possible by the one thing which has forged an industry which now provides far more than half of Scotland's electricity: our renewable energy resource. The wild winds which scour our countryside and seas are driving a new industrial revolution. Already our wind power industry employs 10,000 people, on projects like Hywind, the world's first floating offshore wind farm, and at Whitelee, one of Europe's largest onshore arrays.
But wind power is only part of the story.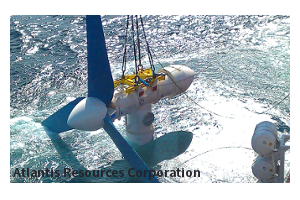 Our world-famous landscapes and geography have forced Scots to innovate for centuries. They're still doing so today. The island of Eigg, with no connection to the national electricity network, was the first place on the planet to combine solar, hydro, wind and battery storage on a single grid. It now welcomes academics from around the world every year, keen to learn how it's done. The remote island archipelago of Orkney generates more renewable energy than it can use, and is innovating wildly. Projects supported by the impressive European Marine Energy Centre are already turning electricity from a tidal turbine into hydrogen, which will be used to power a ferry. Other innovations, deep in the electricity grid system on Orkney, have reinvented the limits of how much energy generation technology can connect at one time. That project has drawn worldwide interest.
At the foot of the UK's highest mountain an investment of £330 million by businessman Sanjeev Gupta has secured the future of an aluminium smelter powered by hydroelectricity. A new wind farm (and eight new hydro plants) planned for the area could support an expansion at the site, creating 2,000 jobs. And in renewable heat, too, we're innovating to create a cleaner future: two large heat pump projects stand ready to deliver on Glasgow's famous River Clyde, while plans are afoot to harness mine water to heat homes and businesses across the country. These are just a few examples of how innovation and renewable energy are coming together to create a new industry in Scotland. Our skills in oil and gas and our thriving universities are also both playing their part: creating the workforce of the future, armed with exportable skills which will grasp the opportunity presented by the decarbonisation of the world's energy system. With ambitious new government targets, the resource and skills to make it happen and passionate, committed businesses at all stages of the supply chain, Scotland really is leading the way in that transition.
Hear from Claire Mack, CEO of Scottish Renewables, on Scotland's successful renewable energy projects and Scotland's ambition to create a clean, bright, energy future.