My name is Robin Haig. A Filmmaker & Young Crofter.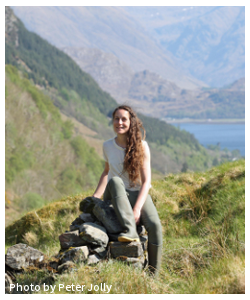 By Robin Haig.
I am a director from Kintail, an area of the Scottish Highlands. My films, which have screened internationally, are inspired by the people, landscape and history of this area. The intention behind my work is to tell stories that reflect what it is to be human, and to inspire reflection and stimulate change within the viewer whilst taking them on an emotional and entertaining journey.
Hula was inspired by observations of women in my community and incorporates the local legend of sisters who were turned into mountains known as the Five Sisters of Kintail. In this story about liberation, Blythe Duff (Taggart, The James Plays) plays Clara, a woman who opens her home as a B&B and is pushed towards change by each guest that stays. The Screen Machine, Scotland's mobile cinema, screened Hula in Dornie, the village where it is set, before taking it on tour supporting Absolutely Fabulous: The Movie. Hula won numerous awards including the BAFTA Scotland New Talent Award from Drama and the Celtic Media Festival Torc Award for Short Drama, and has been hugely successful with audiences.
The same creative team have joined forces again, this time to tell the story of Slingshot, in which a middle-aged woman is excluded from her village's annual battle re-enactment and must rediscover her courage in order to be the Warrior Queen she's always dreamed of being. Slingshot is again inspired by contemporary women and ancient legends of my area. It is a Scottish Film Talent Network short film commission and we will imminently be launching a crowdfunding campaign* ahead of filming this spring.
The Highlands are littered with ruins of homes that once belonged to people forcibly evicted during a period in Scottish history known as the Highland Clearances. These silent ruins are the inspiration for my debut feature Beyond the Silent Glen. In this story a traditional and superstitious young woman fights against her profit-driven landlord to save her way of life, whilst everyone around her is leaving. I began developing the idea during Cove Park's Filmmaking Residency and continue to develop it later this year at the Young Films Foundation, a new feature film development week on the Isle of Skye, run by Young Films and based on the Sundance Institute's feature film programme.
Every time I step out my door I come across signs of the people who once inhabited the hills around me. Every time I go into the village I meet people and hear stories that spark new ideas. There are so many stories to tell from this ever-changing and beautiful landscape, with its inspiring and rich tapestry of characters and stories, both past and present. I feel so lucky to live here and to be able to tell just some of these stories.

Robin Haig