In this student real life story, Raj tells us a little bit about the wonderfully warm welcome he has experienced since he came to study in Scotland.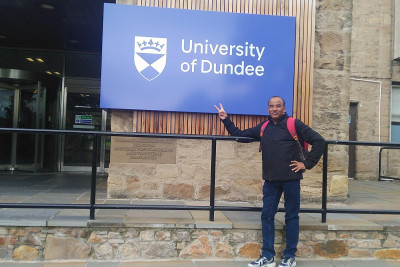 My name is Rajendra, or Raj for short, and I'm one of Scotland's Saltire Scholars.
As a scholar, I receive £8,000 towards tuition fees for one year of study on a postgraduate course at any of Scotland's universities. Plus, I get the opportunity to take part in activities and events with my fellow scholars. This is my story of coming to Scotland, and how I've been welcomed since arriving here.
I'm originally from Nasik in the Maharashtra state of India. After completing a Masters in orthopaedics, I worked in my hometown for more than half my life as a surgeon. During this time, I also worked in the government-run municipal council hospital as chief medical officer.
This was a particularly enjoyable role, as I was involved with the policy decisions that tried to improve the city's healthcare services.
However, the role involved long hours and I wanted a change, so I decided to move back to orthopaedics and develop my skills and knowledge in this area. That's how I ended up in Scotland, pursuing a clinically-based Masters degree for orthopaedic surgeons at the University of Dundee.
Scotland and my home in India are very different places, but I realised soon after coming here that I'd made the perfect decision! In fact, the word 'perfect' doesn't even begin to describe what's happened since I came to Scotland.
For example, on the day I arrived in the country, flying into Glasgow International Airport, I was greeted in such a caring and helpful way by the Scottish people that I fell totally in love with the place right away.
I fell in love with the country I now call home as soon as I stepped off the plane
Raj's first thoughts on Scotland
The campus at the University of Dundee is large and caters to students from all corners of the world. As for the course I am doing, my teaching programme and the clinical suites are so well designed that it has uplifted the age-old theories I had in my mind about the subject.
The vast variety of lectures from subject experts from well-known universities across the UK has really improved my knowledge – and that of my course mates. Plus, there's always something to do at the weekend – the various clubs and societies keep the vigour of campus alive all the time.
After I complete this programme, I'm certain I'll have a strong CV that will stand out, even amongst global candidates. I'm also looking forward to sharing this positive experience with my folks and friends, telling them all about the hidden treasure that is Scotland.