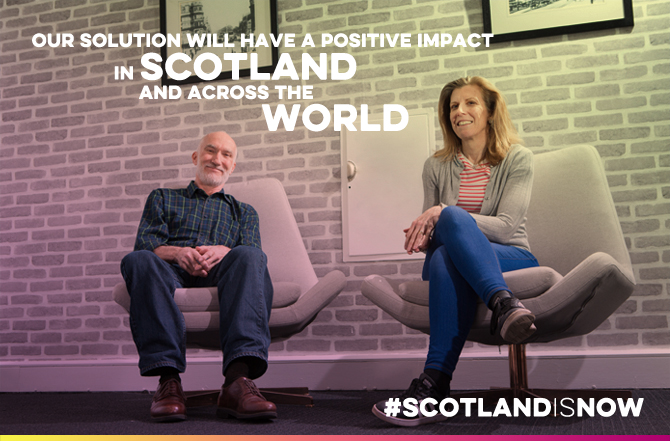 When it came to talent, tenacity and choosing one of the best locations to grow a tech business, business partners, Bob Clint and Susan Ramonat, didn't have to look far when deciding where to set up their business: Scotland is simply made for talent.
Scottish universities are producing graduates with highly-relevant skills in areas like informatics, cybersecurity and data analytics. For this reason, the folks at Spiritus jumped at the chance to attract a few of them to join their team, meaning that they were directly benefitting from Scotland's pioneering academic and tech infrastructure.
Another key reason for considering Scotland as their home was affordability, as Bob and Susan told us that the specialised expertise they need is more affordable here than in other locations like the USA.
"We wanted to keep costs manageable, and develop a base in a country where the time zone was close enough to the US and the regulatory approach comparable".
Scotland's capital city, Edinburgh, has developed excellent fintech, cybersecurity, data science and cryptography sectors – all areas where Spiritus were looking to contribute. As well as this, they saw it as a great opportunity to collaborate with the other excellent companies based here and create an environment where they can all learn from each other. Spiritus recently took a lead role in ScotChain16 and 17 - an important event which raised the profile of blockchain in Scotland.
"The relatively small sense of scale in Scotland means there are a compact number of key influencers. It is possible for a small company such as ours to stand out from the crowd, even amongst the 1000 tech companies located here, but community is two way – we're committed to taking part, leading and learning".
Bob and Susan are also quick to point out that much of their success wouldn't have been possible without the team at Scottish Enterprise, who provided introductions to the right people and networks. Innovation Centres also played an excellent role in connecting up the best thinking from the academic world with commercial opportunities.
In Scotland, the overall environment for a business like Spiritus to thrive is incredibly good and there are many excellent inward investment opportunities throughout the country. Bob and Susan have benefitted from the strong connections between government, the academic world, business and the healthcare, life sciences and energy sectors and they are keen to step up and shout Scotland's praises and help other businesses recognise the real value of what's here.
"Scotland is just the beginning! We want to prove the concept here in Scotland, then expand into other markets. England and Canada are both in our sights and the US is a massive market where our solutions will be highly relevant".